Contact Neil about Instrument Repair
Neil Newcomb's Bio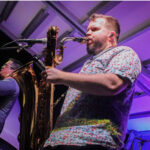 Neil is the owner of Atlanta ProWinds and is a woodwind and brass instrument repair specialist/technician. He graduated with a Bachelor of Music degree in saxophone performance from Kennesaw State University in 2011; he studied various woodwind instruments and emphasized his concentration in jazz performance.
Neil has performed with a number of orchestras and ensembles in the southern region of the United States including the Atlanta Symphony Orchestra, the Alabama Symphony Orchestra, the Macon Pops Orchestra, the Atlanta Pops Orchestra, and the Georgia Symphony Orchestra Big Band. Equally adept on stage as well as in the pit, Neil has also performed with the City Springs Theater Company, the Atlanta Lyric Orchestra, the Fox Theatre, and the Alliance Theatre.
After establishing his own business in 2017 with Atlanta ProWinds, Neil has grown in reputation and demand in metropolitan Atlanta as one of the top repair specialists in the area. He was awarded "BEST OF ATLANTA" in instrument repair after his first full year of business and followed successively with more awards every year through 2020. Neil's diverse skill set as a small business owner, repair specialist, and freelance musician has given him the tools and experience to be equally competent on woodwind and brass instruments.
https://shoutoutatlanta.com/meet-neil-newcomb-free-lance-musician-wind-instrument-repair-technician/